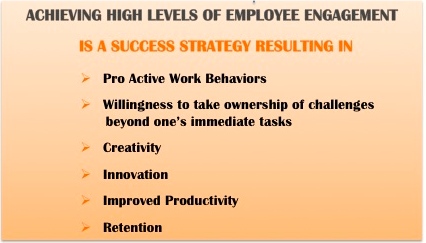 Fact 1 – Multiple studies point to a significant relationship between employee engagement and the financial performance of a company.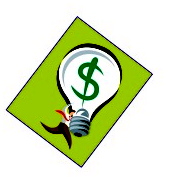 Fact 2 – Management's policies & approach impact the level of employee engagement.

The effectiveness of the programs you develop and utilize with new employees to promote engagement will determine
The trajectory of those new hires' success in your organization,
The value they deliver to the organization, and
How soon they deliver that value
However, one cannot know, with confidence, if these efforts are adequate and accomplish their purpose unless feedback is solicited? It's as simple as that.
The previous post, of this two part series, provides links to information that is relevant and foundational to this post New Employee Engagement Initiative, Day 1 – Part 1
THE NEW EMPLOYEE FEEDBACK PROCESS:
Create a Questionnaire or online survey, if that capability is an option, with sections devoted to each of the processes mentioned below,
Orientation,
Onboarding, and
Training
These are the critical ones for monitoring and improving the way your company brings new people into the organization for optimal results, i.e. producing engaged productive employees in the shortest possible time frame.
Pay special attention to the goals described for the On-boarding Process.
Reminder:  Make it clear in the survey introduction, that completing the survey is a service that is valued by the organization.  

You might state something like this, "understanding what we are doing well and not so well in bring people into the organization is considered critical to the ongoing success of the organization and critical in identifying improvements to new employee programs."

In addition to the important goal of learning about the effectiveness of your new employee programs, this process is also establishing, with new employees, your cultural norm of soliciting and receiving feedback from employees about various aspects of the organization's operations.
ORIENTATION

This is the employee's first experience with their new employer. How you deliver the information they need to know will send a message that will start to create an impression – how they see the organization and their relationship with it.
Here is a sampling of questions for Orientation, add others that are appropriate for your organization:
1.  Were the company's personnel policies and procedures reviewed and explained to you?
– Pay process and procedures
– Vacation, sick leave, other time off
– Legal compliance and the organization's responsibilities
– Legal compliance and your responsibilities
– Performance Management, goal setting, and the review process, timing etc
2.  Were you shown where to access policies and other information you would need during your employment?
3.  Were the benefits programs clearly explained to you?
4.  On a scale of 1 – 10, with 10 being the highest score, how would you grade the Orientation you received?
5.  What additional information would you have wanted to receive during Orientation?
6.  How can we improve the process?
ON-BOARDING 

The Onboarding process that I developed and used was designed to meet what I recognized as the requirements of today's knowledge organizations with departments "linked" and dependent on one-another to achieve goals, in addition to meeting the needs, wants,  and characteristics of the people who are staffing them today.  See diagram below, Model of a Culture of High Employee Engagement.

The Goals of the On-boarding Process

–  Build work relationships that facilitate cooperation and teamwork

–  Provide the big picture of the organization's success

–  Provide a picture and explanation of departmental inter-dependencies & interactions

–  Link employees' jobs to departmental success & organizational success.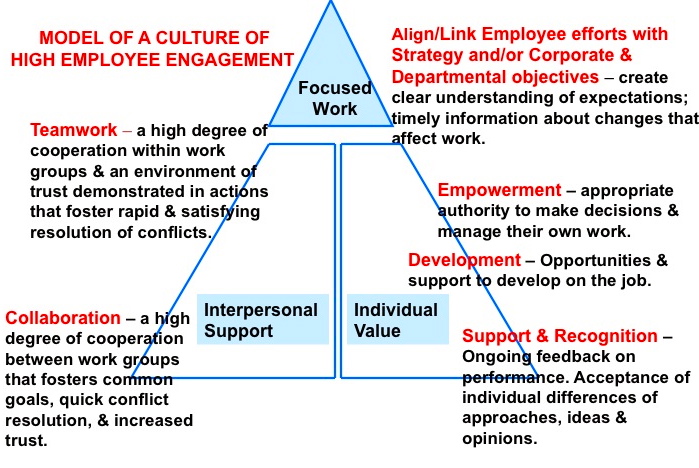 Building Work Relationship
Cooperation and good communications are corporate cultural characteristics that are key factors in creating success for any organization. These characteristics are built on solid work relationships. The inter-dependence of departments on one another is a given in today's linked business environment. Building good relationships within an organization facilitates the cooperation and communications that keep things moving vs. creating bottlenecks.
Providing new employees with a picture of how the organization defines, achieves, and measures its success.
Understanding the work of one's organization and how each of the departments and employees fit into the big picture is another building block in developing Engaged Employees – it's about wrapping meaning and value around what employees do each day.
In following up with new employees, the Onboarding process outlined above was graded as the most beneficial and effective part of the new employee process.   It was credited with creating a feeling of belonging to something important and putting their work into a context that demonstrated its value.
Here is a sampling of questions for evaluating Onboarding: 
1.  Were you provided with an organization chart?
2.  Was the goal of the On-boarding process explained to you?
3.  Were you provided with an overview of the departments within the company and their primary objectives.
4.  Were departmental relationship, dependencies, and interactions reviewed as well?
5.  Were meetings arranged with Supervisors and Managers of other departments?
6.  Which Departments?
7.  Did these meetings occur?
8.  Were introductions made to managers and staff in these departments especially those with whom you will  interact regularly?
9.  Were you able to spend at least 45 min. with each department you visited?
Did you learn about the work of the department?
Their challenges?
Recent successes?
Potential interactions with you and your department?
Were you introduced to staff, especially those with whom you would be interacting.
Did these staff member review their responsibilities and potential interactions with your work?
10.  Did you On-boarding experience achieve the goals as explained to you?
11.  Was the On-boarding process of value to you?
12.  On a scale of 1 – 10, with 10 being the highest score, how would you grade the On-boarding process?
13.  How might we improve the On-boarding process?
TRAINING

Employees who do not feel competent to do their jobs well, will never become engaged employees

Here is a sampling of questions for evaluating Training:
1.  How much of your training have you completed?
2.  Was the training you received adequate in preparing you to do all of the functions of your job effectively within the time frame that your manager seemed to expect?
3.  Were you provided with details about the various activities or functions you needed to learn in order to do the job satisfactorily with time frames for meeting learning expectations?
4.  Did the training seem to be a one size fits all approach or more oriented toward your needs, i.e. taking into account your specific knowledge and experience?
5.  Were you given adequate opportunity to ask questions and receive explanations?
6.  Was your training monitored for progress?
7.  Did you receive feedback on your progress and level of achievement?
8.  Was the training orderly, sequential relative to the way the work would be done OR were explanations about sequence and potential "steps" clearly described?
(Oftentimes work cycles are long and training begins somewhere along the continuum of a project's time line.   When this occurs, you want to be sure the employee understands what came before, i.e. where they are in the process as they receive their training)
9.  On a scale of 1 – 10, with 10 being the highest score, how would you grade the Training you received?
10.  Your suggestions for improving the Training process:
Once surveys are returned, I believe there is great value in conducting a meeting (a video conference if necessary) with those recent hires to review the survey responses and promote a dialogue that can take the organization to the next level in how new employees are brought into the organization.

Such a meeting typically involves employees from several functional areas – another plus.
AS STATED IN PART 1 OF THIS SERIES:
Beyond the benefits and goals already mentioned for the New Employee Feedback Program , there are additional benefits to be derived in adopting a MEETING FORMAT to review the feedback, they are:
Facilitation of development of a mind set that encourages  building work relationships which tend to create open communication, cooperation, and fosters trust (a basic building block for Engagement),

Attaching value and importance to what employees do (another building block for Engagement,

Defining the behaviors the organization values with action not just words on Mission, Vision, and Values statements,

Developing a bond between organization and employees that translates to commitment, i.e. Engagement,

Developing employees who think about how work is done and how to do it better, a hallmark of the Engaged Employee.
A TRUE STORY about the outcome of a meeting with new employees to hear their Feedback:

We were discussing new employee experiences with training at our Biotech Company. One of our new techs volunteered that her training had not been very effective and went on to describe why – "the why" she figured out after about 4 months on the job.   The complex process in which she had been training had a 3 – month completion term from start to finish.   She had come in somewhere in the middle of the process and this is where her training had begun.  

No one had attempted to explain this to her and since she had no idea about the process from start to finish, she had no idea about what if anything she needed to know about what had come before her starting point and its impact on the place where her training had begun.  

It wasn't until she had completed one cycle and was beginning another that she realized there was a serious fault in how the training had been delivered. Her training would have been fully meaningful and better understood had she been given a foundation on which to build her understanding as training progressed.   She suggested at the Feedback Meeting that a flow chart be created to describe all the processes that went into creating the product from start to finish and that each new employee be provided with an overview of the production process as they begin their training and then shown where their training will begin on the flow chart.

This plan was adopted not only in one department, but also in other departments. It resulted in better training outcomes in which new employees reached full proficiency sooner and with fewer errors.  Employee productivity, especially output quality, improved.
There had been an ongoing discussion about how long it was taking new employees in some departments to reach full proficiency, and costly errors were a concern.   Failure to meet deadlines was blamed on under-staffing and staffing was increased with minimal improvement in outputs. Managers were charged with looking into the situation to determine potential solutions, but no one solicited any feedback from new employees about their training – the attitude from managers was – it is what it is.  
If all of the efforts toward improving Engagement are to have the desired positive impact, what is learned cannot end up in a report in the bottom drawer of an HR department cabinet.
The knowledge and information collected  must be shared with other management, followed by back and forth communications on the meaning and value of the information and how it should and will be used.
SPECIFIC ACTION PLANS and timelines for implementation need to be created to address deficiencies and the monitoring and feedback process with new employees as well as other staff needs to be ongoing.
The success of the organization depends on it.
HR departments operating at a high level, are ideally suited to looking at and understanding the organization as a whole, then gathering information on various operational pieces with initiatives such as this New Employee Feedback Forum, and sharing these findings with other management and working with them to identify and facilitate improvement strategies to the various parts that will benefit the whole.   An HR department that is not up to this task, needs to be upgraded with professionals who are.